Soothe sore muscles. An Epsom salt bath is a great after-workout soak and a wonderful way to relax and relieve stress. Dissolve 2 cups of salts to a warm bath. Soak for 10-15 minutes for best results.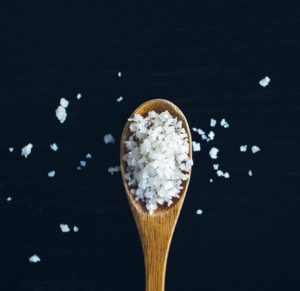 Exfoliate skin. As we shed our skin naturally, dead skin cells buildup can clog pores and cause blemishes. Your face needs to be exfoliated along with the rest of your body. Mix a teaspoon of Epsom salts in your hand with a little warm water. Scrub your face with the mixture; then rinse clean; you can exfoliate your body in the shower. You can even make a lip balm with equal parts organic coconut oil and Epsom salts.
Homemade hand wash. Mix ½ cup of baby oil with ½ cup of water, and add ¼ cup of Epsom salts and a few drops of your favorite essential oil. Set this homemade mixture next to your sink for a nice bathroom hand wash.
Treat insect bites and poison ivy. A compress made with Epsom salts is a good treatment for mosquito bites, bee stings, and poison ivy. Mix 2 Tablespoons with 1 cup of warm water. Soak a clean cloth in the mixture and hold on affected area to remove pain, burning, and itching.
Draw Out Splinters and Toxins. Skip the needles and soak your splintered skin in an Epsom salt bath. The salts will draw the splinter out and leave the area clean. And, Epsom salts bath draws toxins out of your body and reduces swelling. Dissolve 1-2 cups of Epsom salts in a warm bath and soak for 10-15 minutes.
6. Tile cleaner. Use on bathroom and kitchen tile grime. Powerful tile cleaners are expensive and also contains harmful chemicals. Make your own hard-working natural Epsom salt tile scrub by mixing equal parts liquid dish soap with Epsom salts. Scrub onto tiles with a sponge and rinse clean with water.
7. Fertilize your lawn and plants. Epsom salts make a wonderful fertilizer for your lawn and potted plants. For greener grass, mix 1 cup of the salts for every gallon of water and spray over lawn area. To fertilize potted plants, tomatoes, and other vegetables, sprinkle Epsom salts around the base of the plants once a week.
8. Kill foot fungus and remove odor. Soaking your feet in Epsom salts not only reduces swelling and draws out toxins, but also zaps odors and foot fungus. Add ¼ cup to a large container of warm water. Soak feet for 10-15 minutes.