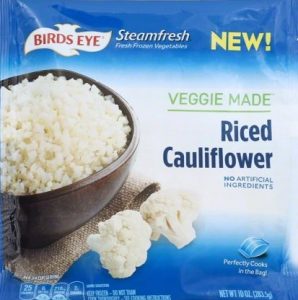 Are you taking advantage of the many ways to use cauliflower to save carbs? Don't keep thinking it tastes awful, just because it's a cruciferous vegetable. Now you can fool just about everybody with RICED CAULIFLOWER! And you can save yourself some work by getting it in the frozen section at your store. You can even find organic riced cauliflower. Try it!
So now you can treat your family to mashed "potatoes," Shepherd's Pie, cheesy "risotto," pizza crust, and so many more formerly high-carb dishes we all love. Think of 30 calories instead of 200! We'd like to share a really good recipe here, and you can use your imagination or your favorite search engine for many more!
Vicki Carr's Shrimp with Tomato Gravy
(Determine quantities by how many are being served.)
Enough Boiled Shrimp, peeled and de-veined
Frozen Organic Riced Cauliflower: defrost in the microwave and mash till it looks like mashed potatoes; season with salt and pepper and a bit of butter and use instead of rice or potatoes, under the shrimp and tomato gravy
Tomato Gravy: 1 package of real bacon bits, warmed with 1 T. olive oil in skillet;
Saute 1 cup chopped onions with the bacon, then add 1 can of stewed tomatoes and an 8-oz can of tomato sauce; season to taste with salt and pepper and cook till all is well blended. Serve over the shrimp atop the cauliflower, and maybe a bit of cornbread.