One of our newest licensees authorized to use Diabetes Relief's patented treatment process is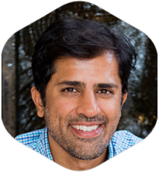 Darshan Shah, MD, MBA, ABFM, ABIHM (wholehealthaustin.com), whose clinic is in Austin, and we'd like to introduce you to him. You may have friends in the Austin area who need the treatment or other services Dr. Shah offers.
Whole Health Austin is an Integrative and Holistic Medical Clinic that operates on the common ground between Ayurveda, Traditional Chinese Medicine (TCM), our Microbiome, and Western Medicine.  The thread that connects these sciences is our gut, and the type of medicine Dr. Shah offers based on this understanding is Integrative and Holistic Medicine. Ayurveda and TCM have recognized and highlighted how healing starts in the intestines, gall bladder, liver, stomach, and other digestive organs.  Now modern medicine is catching up with what has been observed for thousands of years.
Dr. Shah launched Whole Health Austin to focus on lifestyle and nutrition and go beyond disease prevention to optimal wellness. We can see why the DR treatment, which goes to the root cause of diabetes, is an excellent addition to his practice! Dr. Shah believes that  within us all is an innate intelligence that knows what we need at all times. His goal is to inspire people to become their greatest selves and catalyze the changes that we already know we need to make. He works to reconnect people to the internal voice they were born with, the one that helps people take care of themselves, and urges us to "listening to your gut."
Dr. Shah's contact information is 2112 Robert Browning Street, Austin, TX 78723; 512.937.3518; info@wholehealthaustin.com; website is wholehealthaustin.com.