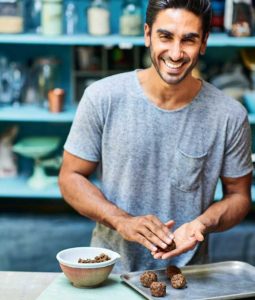 Dr. Rupy Aujla is in General Practice and Emergency Medicine in England, and for several reasons he has changed his eating lifestyle and offers not only nutrition advice but recipes as well at www.thedoctorskitchen.com.  He was one of the speakers at a recent "Wellness Summit by Food Matters TV (www.fmtv.com) and offered these tips for better health:
Reduce refined carbohydrates and sugars! Eat "colorful bowls" for the necessary vitamins, minerals, and amino acids (e.g., greens [especially bok choy], peppers, tomatoes, herbs such as rosemary, and perhaps whole grains such as amarinth or quinoa). He eats meat, but only 2-3 times a week, and says it's a personal choice.
Do all your eating in a 12-hour window (e.g., 7 a.m. to 7 p.m. or 8 a.m. to 8 p.m.); eat nothing outside that window. No late-night snacking!
Get enough sleep! Our circadian rhythms are extremely important.
Hydration: get plenty of water, whatever is right for you (he drinks 2 liters a day).
Eat good-quality sources of fats and proteins–e.g., EVOO, coconut oil, nuts, seeds, beans, legumes.
When asked what to do for that 3 p.m. slump, he suggests ten minutes of meditation, mindfulness, and breath work. He said it's surprising how refreshing it is.
A book he's currently reading is How Not to Die: Discover the Foods Scientifically Proven to Prevent and Reverse Disease, by Michael Greger, M.D., and Gene Stone, which teaches that nutrient-dense food is the key to good health.
Bon apppetít!